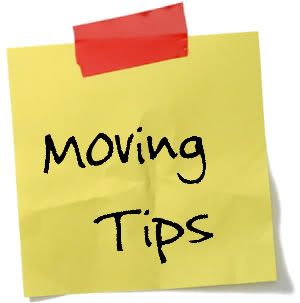 We are moving to a new house. The end of the month we are going to move, I'm very exited but at the same time I know how much work involve with moving and I'm not looking forward to it.
I made a list that might help me get throw it. If you are at the same boat as I'm read on….
Did you know that moving house can be one of the most stressful times in your life? It's right up there with losing your job, divorce or the death of a loved one, as one of the biggest causes of stress.
1. Get organized in advance. If you leave everything until the last minute it will be stressful..
2. Start selling non-essential items three months before you leave. Clutter and things you don't use much build up in any house, especially if you have kids. You'll find that there are plenty of things you can off-load two or three months before your move. Stuff like toys, tools, kitchen equipment, many clothes and everything that's broken, or that you never use but have been saving for a rainy day.
3. Organize your personal belongings and paperwork. Get a concertina folder for essential documents like passports, birth certificates, and other certificates and keep them all together. Sort out your personal photos – put them in albums and chuck out all the blurred and boring ones. Give all the kids a memory box – a shoe box will be about the right size for them to keep all their school reports, photos, pictures and keep sakes in. Keep the box small – they will fill it!
4. Maximize this opportunity to minimalise. There's no point in keeping too much stuff if you're making a big move. This is the ideal time to become more minimalist and get rid of all the possessions that are compromising your freedom. Make a list of everything you want to sell but need to keep until you leave: furniture and big electrical items such as the fridge, washing machine, stereo and dryer.
Write an email with title, description and price. Just sell everything for half what you bought it for. Remember, you want to get rid of it. Now email this to all friends and colleagues who live nearby. I predict a feeding frenzy. Print out the email, ask people to commit to buying something and add their name by the item. Ask them to swing by on moving day and pick it up. Simple yet effective and your friends will be delighted.
5. Have a huge garage sale for smaller items. Think of it as being paid to clean out your house and declutter your life. Again, remember to sell everything for a low price because your main aim is to get rid of stuff.
By now your house, cupboards and garage should be looking nice and empty which will make cleaning easier. Don't pack or store any breakables unless they have sentimental value or are not replaceable. Things like crockery and glasses can be picked up when you get there.
6. Packing. You can start packing up things you're taking early too. Buy a big roll of bubble wrap, masking tape, cardboard corners for pictures and some tea-chests from removal company then pack a few things each night or blitz the lot in one day.
Give the kids one small box each for toys they want to keep. This will focus them on not over-packing and on getting rid of everything they don't need any more. Tell them you'll use some of the proceeds from selling their old stuff to fund a great family outing from your new home.
7. Moving day. When your friends come round to collect all the stuff they bought offer them all the crockery and glasses you needed until the last moment. If they don't want it ask them to drop it off at a charity shop for you. They'll be so pleased with the great deals they got from you they'll be happy to oblige. Finally have a good clean up or use some of your garage sale money to hire a cleaner.
Boom! You're out of there.
With less clutter tying you down, the world is your oyster. Just imagine if you were really good and got rid of it all, you'd be free as a bird.